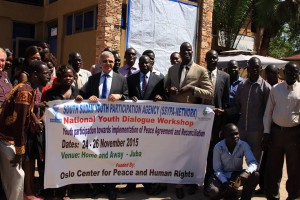 The Oslo Center, Norwegian Church Aid, the Support Group for Sudan and South Sudan and Norwegian Friends of Kuron welcome you to an open seminar on South Sudan.

The seminar will focus on the role of civil society in the implementation of the Agreement on the Resolution of Conflict in South Sudan, as well as the peace, healing and reconciliation efforts in the country.

Leading analyst on South Sudan John Ashworth, and Bishop Emeritus Paride Taban who has had an active role in peace work in South Sudan, will be key speakers at the seminar.

Time: 17:00 – 19:00
Place: Amalie Skram at Litteraturhuset, Wergelandsveien 1.
Coffee and tea will be served

Program:
17:00 Welcome
17:10 Norwegian Ministry of Foreign Affair's perspectives (TBC)
17:25 Key note speech by John Ashworth
17:55 Perspective of the Government of South Sudan by Amb. Morris Batali
18:05 A researchers perspective by Øystein Rolandsen (NUPI)
18:15 Civil Society represented by South Sudans women group in Norway
18:25 Q&A
18:45 Speech by Bishop Emeritus Paride Taban
18:55 Concluding remarks

We hope to see you there!
http://bit.ly/1M9mFVX