Hentet fra African Time Com-South Sudan AFP | 20.2.2018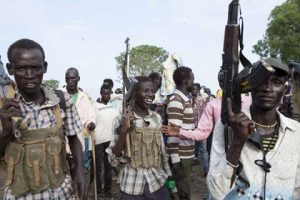 Two Kenyan pilots held for over a month after crash-landing their plane in rebel-held South Sudan have been released, a rebel spokesman said Tuesday.
The two men were flying South Sudanese aid workers close to Akobo in the east of the country early last month when they were forced to make an emergency landing, resulting in the death of one civilian and the pilots' subsequent detention.
They were handed over to Kenyan officials on Monday in exchange for $108,000 (87,000 euros) which rebel spokesman Lam Paul Gabriel said was «compensation» for the loss of life and damage to property, including some houses and «two cattle pens».
Gabriel said the money was handed over by «seven Kenyan officials» while Kenyan newspaper The Daily Nation said the money was paid by the airline company and its insurer.
A Kenyan foreign ministry official confirmed the release of the pilots but denied the payment of any ransom to secure their freedom.
South Sudan plunged into civil war in late 2013 when President Salva Kiir accused his former deputy of plotting a coup. Fighting has continued since then, dividing the country into rebel and government fiefdoms.
Tens of thousands of people have been killed and four million forced from their homes in the years since, while repeated rounds of peace talks have collapsed.
Source:
http://en.africatime.com/soudan_du_sud/articles/two-kenyan-pilots-released-ssudan-rebels