Hentet fra  The Guardian 23.2.2018| 
Interviews with hundreds of witnesses find 'clear pattern of ethnic persecution'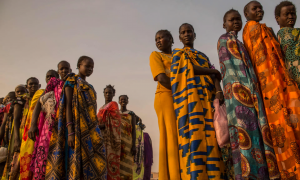 Bildetekst:
More than 4 million people have been displaced in South Sudan since the civil war began in 2013. Photograph: Stefanie Glinski/AFP/Getty Images
UN investigators say they have identified more than 40 South Sudanese military officers who may be responsible for war crimes and crimes against humanity.
Their findings are a sharp departure from previous UN reports that documented crimes but not perpetrators.
Oil-rich South Sudan gained independence from neighbouring Sudan in 2011, but slid into civil war in December 2013. More than 4 million people, a third of the population, have been displaced by violence.
The investigators, from the UN Commission on Human Rights in South Sudan, say their findings are based on interviews with hundreds of witnesses, satellite imagery and nearly 60,000 documents dating back to the outbreak of the war.
Their report, released on Friday, makes the case for "individual command responsibility for widespread or systematic attacks on civilians" by senior military officers, including eight lieutenant generals, and three state governors.
Mawien Makol, a spokesman for South Sudan's foreign ministry, said the government was willing to hold people to account. "The government will prosecute anyone responsible for any crimes. This is a responsible government," he said.
There have been very few prosecutions of South Sudanese military or government officials for crimes against civilians.
The UN report details what it calls "appalling instances of cruelty against civilians who have had their eyes gouged out, their throats slit or been castrated". It says such violence occurred during five major battles between government troops and rebels in 2016 and 2017.
The report contains testimony from a mother who witnessed her son being forced to rape his grandmother while his family was held hostage, and an 85-year-old woman who said she was gang-raped before watching the execution of her husband and son.
It also documents what the commission member Andrew Clapham called "a clear pattern of ethnic persecution, for the most part by government forces who should be pursued for crimes against humanity".
The conflict has pitted the ethnic Dinka community – to which the South Sudanese president, Salva Kiir Mayardit, and most of his army commanders belong – against Nuer rebels led by Kiir's former deputy, Riek Machar.
Whether the investigators' evidence will result in prosecutions depends on the African Union. Under a 2015 peace deal that fell apart in 2016, the AU and South Sudan were supposed to set up a "hybrid court" made up of South Sudanese and other African judges to try people accused of atrocities.
The UN commission said a year ago that the AU was making itself complicit in South Sudan's bloodshed by failing to set up the court. It called again on Friday for it to be established.
"The court could be set up straight away and the prosecutor could begin working on indictments," said the commission's chief, Yasmin Sooka. "Under the peace agreement, those indicted can no longer hold or stand for office."
Elections are due in South Sudan this year, according to the 2015 peace deal. . Other countries, including the US, are trying to get the warring sides to observe a ceasefire before any vote is held.
Kilde: https://www.theguardian.com/world/2018/feb/23/un-identifies-south-sudan-military-officers-accused-of-war-crimes?CMP=share_btn_fb