Nairobi, October 11th 2018:
Protesters push Government to punish Kenyan banks aiding South Sudan carnage
•    KCB, Equity and Stanbic Banks among top financial institutions linked to South Sudan looting
A team of protestors have staged a peaceful protest at Uhuru Park, Freedom Corner to push the government to clamp down Kenyan banks aiding South Sudan carnage.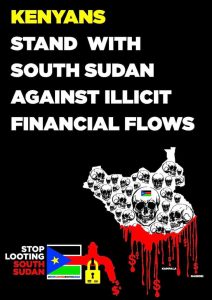 According to Activist Boniface Mwangi, the ongoing carnage in South Sudan has claimed the lives of 3 per cent of the country's population – an equivalent of 380,000 people and is being facilitated by Kenya's banks and government.  For too long the world has either ignored the war in South Sudan or considered it a simple power play between the factions of President Salva Kiir and his ex-Deputy, Riek Machar.
"While the humanitarian crisis deepens, and millions face starvation, banks accounts of certain South Sudanese are growing very fat. It is clear that banks of Kenya and Uganda are handling millions of dollars' worth of transactions that reward generals and warlords, turning them into princes as their people rot in the ground," noted Mr. Mwangi.
He added: "KCB, Equity, and Stanbic banks, as well as high officials in government are helping South Sudan's generals and warlords not just to continue massacring their own people, but also to profit from it through illegal trade in oil and teak smuggling.
"For too long we have allowed ourselves to think that the war in South Sudan is a foreign issue, caused by and affecting only the people of that country. But it is becoming increasingly clear that Kenyan banks are facilitating the large-scale pillage of South Sudan. All this done at great risk to the Kenyan economy including jeopardising the nascent Nairobi International Financial Centre.  Corruption isn't new to Kenyans, we have witnessed it among the elite time and time again. But what we have learned this week is that corruption here is fuelling a war that has caused the deaths of hundreds of thousands — and we are angry," concluded Mr. Mwangi.