Hentet fra The Guardian  | Av Jason Burke, Patrick Wintour og Zeinab Mohammed Salih
The message from the senior United Nations officials to their staff was honest – if unapologetic. Four days after Sudan was plunged into a welter of chaotic violence as two rival factions battled for control of its capital city, the UN's special representative to Sudan answered questions online in a virtual "townhall meeting".
"This is the worst of worst case scenarios," Volker Perthes said. "We tried even with last ditch diplomacy … last week and we have failed."
Was there no warning, one staff member asked? "No, we did not have any early warning," Perthes said, according to minutes of the meeting viewed by the Guardian.
But others disagree, saying that governments and international organisations should have been much better prepared for the crisis. They say it was always clear that army units loyal to Sudan's military ruler, Gen Abdel Fattah al-Burhan, would end up fighting the Rapid Support Forces (RSF), led by Mohamed Hamdan Dagalo, known as Hemedti, and that warning lights were flashing red long before 15 April, when the shooting started.
Residents of Khartoum say they have been warning about such a clash for months. Both factions had been mobilising for a struggle, stockpiling ammunition, accelerating recruitment, bringing in extra fuel and medical supplies, even blood. Two nights before the outbreak of violence, there was none of the usual buzz of an evening during Ramadan in Khartoum's cafes and restaurants.
Shamael el-Noor, a Khartoum-based Sudanese political analyst, said conversations with both factions convinced her violence was coming.
"I was aware of the pressure between the RSF and the army and certain that [it] could at any time escalate into an unwanted [violent] situation. I was totally expecting that there will be an explosion, [and] knew that if it was going to erupt anywhere it would surely be in Khartoum … I just wasn't sure about its level," el-Noor said.
Many residents watched the movements of high-profile foreign diplomats in Khartoum as an indication of risk.
"Some people were reassured by the position of the American embassy, saying as long as the Americans didn't release warnings, that meant the situation was safe," she said.
Mini Arkou Minawi, the governor of Darfur and the head of the Sudan Liberation Army – a former rebel group that joined the government in Khartoum in October 2020 after fighting for about 18 years – said he had warned from March that war was coming and had urged both factions involved not to fight in the cities "among women and children, we used to go and fight in the mountains".
Minawi said a key moment was the conclusion of a UN and US-backed deal late last year, which was supposed to lead to a transition to civilian-led government and security sector reform.
"They have been recruiting and increasing their forces from six to seven months ago … Neither of them wanted [the fight], then they brought thousands of their troops to Khartoum," he said.
In western capitals, there will now be difficult conversations about what could have been done more effectively to guide a transition from military to civilian rule after the fall of the veteran authoritarian ruler Omar al-Bashir in 2019 following months of popular protests.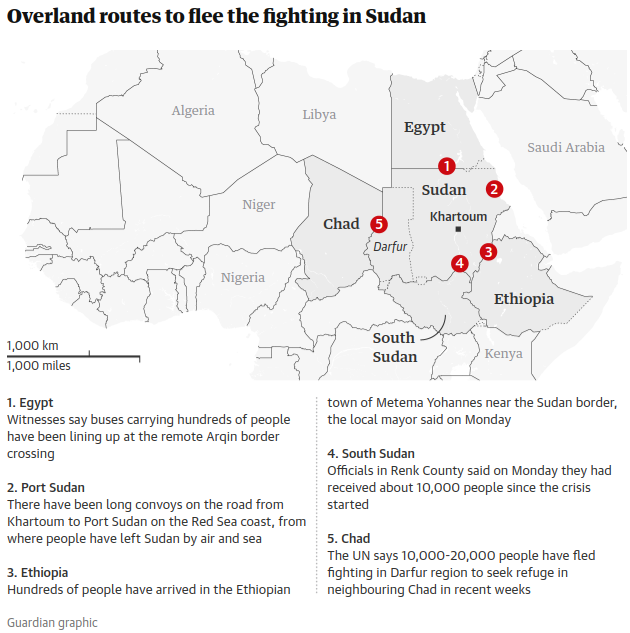 One criticism is that sanctions should have been imposed on Hemedti and the RSF to send a strong signal after they massacred about 200 pro-democracy demonstrators in June 2019 as they moved to sideline civilians and consolidate their grip on power.
Cameron Hudson, an expert in US Africa policy at Center for Strategic and International Studies in Washington, said: "There were moments where sanctions could have been used to great effect and could have changed the trajectory … Hemedti has been able to reinvent himself as a politician and a statesman and we, the US, allowed that to happen."
Another charge may be a failure to address the concerns of both Fattah al-Burhan and Hemedti for their own personal safety if, somehow, they were convinced to step down.
The UK special envoy for Sudan and South Sudan, Robert Fairweather, told a recent meeting of Sudanese lawyers in London that in his discussions with Fattah al-Burhan and Hemedti both "expressed their worries about what would happen to them the next day if they were to relinquish power".
Others, such as Stefan Dercon, director of the Centre for the Study of African Economies, University of Oxford and development adviser to successive Conservative foreign secretaries, said they thought the UK had been unrealistic.
"I was shocked the main thing we kept focus on with other embassies was transitional justice, gender empowerment and parliamentary things when the basic deal had not been done in the country, including the economic deal," Dercon said.
Others said the number of different actors involved limited London's leverage – and that of other western powers.
Dr Hannah Waddilove, a Foreign Office east Africa analyst, said western influence had declined from a high point in the early 1990s.
"We are in a classic 21st-century multipolarity in the Horn … It has always been an area of competition, but there is now a constellation of different states," she said.
Those now manoeuvring for advantage in Sudan and east Africa more broadly include China, Russia, Egypt, Saudi Arabia and the United Arab Emirates.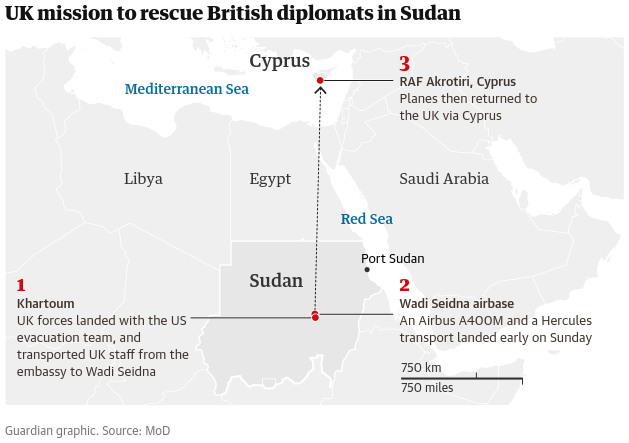 Ahmed Soliman, of London's Chatham House, said: "There were a lot of different visits, a lot of envoys … There are plenty of actors who are keen on a military authoritarian regime in Khartoum and much less keen on a civilian government spreading democratic values in the region."
US commentators point out that the 2021 military coup came just hours after Fattah al-Burhan assured the US special envoy for the Horn of Africa of his commitment to a transition to civilian rule. Both the general and Hemedti "told the international community what they wanted to hear" with the result that the US "fundamentally misjudged" who they were dealing with in Sudan.
"We believed what Burhan and Hemedti were saying: that they had the intention of turning power over to civilians. That required believing the leopard had changed its spots. But at no point could you point to anything on the ground that would show that was the case," said Hudson.
Just days before the fighting broke out on 15 April, the US secretary of state, Antony Blinken, spoke again to Fattah al-Burhan as part of frantic efforts to avert a looming clash and received further assurances. Other efforts to halt the slide to violence involved the African Union's representative in Khartoum, Saudi Arabia and the United Arab Emirates, the EU, UK and the UN. Optimism – possibly misguided, according to many commentators – remained until the last minute.
"There were signs of tensions building between RSF and SAF but …. On Friday [14 April] evening we thought that de-escalation had begun … We were wrong," Perthes said to UN staff in the internal meeting. Less than 12 hours later, the fighting began.
Successive efforts to establish a ceasefire have failed since and most countries are rushing to evacuate first their diplomats then their citizens from Khartoum. The World Health Organization estimated that more than 400 are dead and thousands injured – though medical NGOs in Sudan say the true toll is much higher.
However, on Monday evening a 72-hour ceasefire between the two sides, due to take effect at midnight on 24 April, was announced. Blinken said the US would support efforts to set up a committee to lead negotiations to create a lasting peace.
"We are now in the war and the most scary thing is that it will become a civil war. It was obviously coming and I don't think anything could have stopped it" said el-Noor.
https://www.theguardian.com/world/2023/apr/25/the-worst-of-worst-case-scenarios-western-diplomats-blindsided-over-sudan-crisis