Hentet fra  Radio Tamazujo 10.10.2018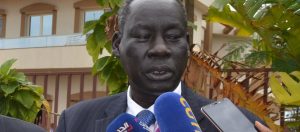 Deng Alor, a leading member of the SPLM 'Former Detainees', has arrived in Juba this afternoon for a visit to meet with President Salva Kiir and other members of the government.
The group of political exiles has expressed its desire to be part of the revitalized peace deal.
Speaking to reporters upon arrival at Juba Airport, Alor said he returned to Juba to kick-start the peace process in the country.
"I came to attend the first meeting of the pre-transitional committee.  I am a member of the committee, so we will discuss the program of the peace agreement," he said.
The opposition official further said South Sudan leaders were ready to leave behind the past and that they decided to give a big push to the peace process.
Deng revealed that his leader Pagan Amum has decided to rejoin the revitalized peace accord." We met last week in Nairobi as SPLM-FDs. We ratified the peace agreement and Pagan was part of us," he said.
"Our people need peace, so all political parties including the SPLM-FDs have to accept the agreement," he added.
The SPLM-FDs official was scheduled to meet the president. This is his first visit to Juba since he left the country early this year.
Kilde:
https://radiotamazuj.org/en/news/article/deng-alor-returns-to-juba-to-meet-kiir