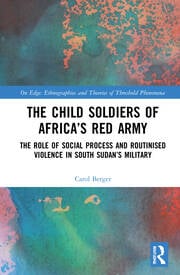 The Child Soldiers of Africa's Red Army: The role of social process and routinised violence in South Sudan's military. By DR CAROL BERGER  ISBN: 9780367742607
The Child Soldiers of Africa's Red Army by anthropologist and author Carol Berger, is a rare addition to our insight and body of knowledge on the little known, until now, Africa's Red Army, who formed it, what was driving it and why this army received such scant scrutiny and mention or interest in the academic fraternity just until now.
The book is a latest product of extensive research efforts on the history of my country by the author, shedding new light on the Red Army, an offshoot from one of Africa's enduring rebel movements on the continent, the Sudan People's Liberation Army (SPLA), the military arm of the Sudan  People's Liberation Movement (SPLM) that emerged under the leadership of Dr John Garang de Mabior in 1983.
Since the inception of the  SPLA/M struggle for a united socialist and secular 'New Sudan', that however, didn't come about without a huge burden and cost of endurance for decades in terms of the forced conscription of child soldiers and youth from ages of 9 to 16, into militia and guerilla army that SPLA had since become from 1983 to 2005.
As the war of liberation by the SPLA picked up momentum with support from socialist regime of Mengistu Haile Mariam in Ethiopia, the first wave of child soldiers who were forcibly conscripted into the SPLA began to arrive in thousands and droves for training as the Movement's *Red Army* in the Revolutionary War Institute in Bonga, in south western Ethiopia.
The teenage and young children who made it alive to the Red Arny training camps in Bonga, faced harsh and violent treatment at the hands of their trainers and commanders. The accounts of the veterans experiences during training and deployment in battle fields are some of the most harrowing narratives and tales on record.
The former Defense & Veterans Affairs  Minister in South Sudan Government, Kuol Manyang Juuk, is renown for having led the first forced conscription of over 10,000 underaged child soldiers from Dinka Bor alone, taken for training in the Revolutionary War Institute in Ethiopia. Forced conscription against the will of parents ensured steady flow of child soldiers into the SPLA for supporting tasks and operations which supposedly prepared them for battle, even at such young age. The young underaged child soldiers were at the mercy of their commanders who made all fateful decisions for them on matters of life and death. Many of these young recruits also perished in training camps from hunger, maltreatment and starvation from little or lack of food in the camps where they endured harsh training conditions and frequently being denied little available food. Gross violations and violent acts were committed against child soldiers with impunity in the name of discipline. Any form or show of insubordination by the child soldiers to those in charge of their situation, was punishable by imprisonment in a hole two meters deep for twelve hours, then beaten up by adult soldiers and forced to stand for hours in the sun without movement for offenses such as serving poorly prepared food to adult soldiers. More importantly, this was all made routine for child soldiers as young as 11 years of age in SPLA who failed the social obligation to show discipline to their adult superiors. The indelible hallmarks of children at age 11 or 12 burying other children, remained to this day in the memories of those veterans who survived and lived to tell the stories of their life's experiences of seeing the death on the spot of other kids in training, or burial of them by other kids. The public executions by firing squads in training camps which those young recruits have to endure watching.
This organised exploitation of children and youth by the SPLA during the war has later attracted accusations and condemnation by Human Rights organisations and activists who challenged SPLM/A leaders for recruiting and using child soldiers in its forces which continued to this day. A second wave of child soldiers were conscripted soon after the CPA in 2005, followed by a third wave of Mathiang Anyoor forced  conscripts, resumed by none other than President Salva Kiir and trained by the current Chief of Staff of SSPDF Gen Santino Deng Wol in the lead up to the 15th December 2013 ethnicised conflict in South Sudan post independence.
The book illuminated the Red Army's formation and chronicled the dispatch by SPLA leaders of 619 children and youth, 61 girls included, to Cuba's Isle of Youth in 1985-1986, where they were enrolled in Battala de Kore School for studies and labour in Cuba's plantations before many of them emigrated to Canada thirty years later, and known by South Sudanese as the Cuban Red Army veterans, akin to those known as Lost Boys who were resettled to the United States of America.
Looking back, the formation of the Red Army was a direct consequence of the presence of forced conscription of child soldiers into SPLA and they were also seen to be «vanguard of the SPLA and New Sudan». Many of those who were sent to Cuba were children of SPLA leaders, including Dr John Garang, Willian Nyuon Bany, Bari Wangi, Kerubino Kuanyin Bol and others with privilege of being related to SPLA military commanders in South Sudan at that time.
This historical point of reference gives some insight that is not largely dissimilar to the currently dominant political organisation of South Sudan Government and military, one «adhering to hierarchy of social structure that privileges some individuals and groups» over others in the country.
It is in this vein the book's author contended that the ongoing conflict in South Sudan can be better understood  through «local lived experience» worldview of militarization of the state.
While ethnography of the Africa's Red Army decried   the systemic use of underaged soldiers by the SPLA during the war, it also points out that the process has become a long established practice in today's South Sudan, drawing attention to the risk of militarization unashamedly incorporating «violent acts into social process» post independence. The consequences of which would be extremely and immeasurably damaging to society of engineering a new social hierarchy which the study warns about with red flags for taking the nascent state down this path.
The risks being flagged by the research warn against creating for a fact a complicit society, one that is tolerant and accepting of violence together with affirmation  by society of the supposed or perceived merits which make it permissible for a particular individual or privileged group to practice and inflict violence as acceptable norm of social process and existence.
The terrible consequence  is that the militarized state in the form and shape of current South Sudan Government now habitually deploys and transcats in violence, thus incorporating unlimited trauma and dysfunction in everyday life of the country and it's people.
This Red Army ethnography is based on accounts and experiences of veterans, illuminating unchartered chapter of the nascent militarized state which South Sudan has become, and has raised ample red flags which situate the dysfunction of the political organisation of South Sudan Government and its military leaders in its proper contextualisation for many to appreciate where the prevailing dysfunction is coming from.
It has to be acknowledged and indeed appreciated that for anyone reading Africa's Red Army history, there can be no doubt about it that it is not easy for South Sudanese or indeed for anyone else to have the time to research, compile and provide this missing link about the history of South Sudan, by someone like Dr Carol Berger in this book. There can be no doubt about and no denying of the great opportunity this research offered me and many others who am certain will read it, the opportunity of stepping into a timely and imperative dialogue on the history of my country on a difficult subject as systemic and forced recruitment of child soldiers into SPLA by many of the current leaders in the Government and military of South Sudan. The book is worth reading and highly recommended, and I can only hope that other South Sudanese find time and effort, like Dr Berger did, to fill the gaps in our knowledge about our nascent state for a complete picture and what it holds in store for the future.