Hentet fra  SudanTribune January 29th 2023.
January 29, 2023 (JUBA) –
South Sudan's President Salva Kiir has appealed to the citizens to maintain peace and order during the Pope's visit to Juba.
Kiir, while addressing worshippers at St. Theresa Cathedral in Kator on Sunday, urged citizens to welcome Pope Francis in large numbers on Friday.
The Pope will travel to the Democratic Republic of the Congo (DRC) and South Sudan after he postponed his visit in July 2022 due to health issues.
He will spend two days in South Sudan before returning to the Vatican, Italy.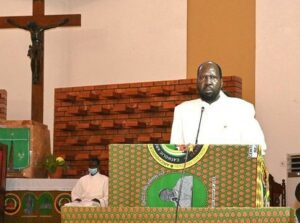 The South Sudanese leader also inaugurated a road named after the Pope.
Speaking during road inauguration occasion, the presidential advisor on security, Tut Gatluak Manime urged citizens to open their hearts to receive blessings of peace and reconciliation that will comes with the Pope's visit.
The high-level committee chairperson for the Papal visit, Barnaba Marial Benjamin disclosed that President Kiir had lifted suspension of peace talks with the hold-out groups mediated by the Sant'Egidio community in Rome.
The Archbishop of Canterbury Justin Welby and the moderator of the General Assembly of Church of Scotland, Rt. Rev Dr. Iain Greenshields will accompany the Pope.
(ST)