INVITATION
          BOOKLAUNCH. 8TH NOVEMBER KL. 18.00 – 20,30
                  HOTEL NAIROBI SAFARI CLUB, KOINANGE STREET, NAIROBI ( Map-Nairobi)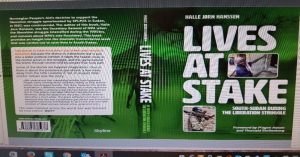 The Norwegian SKYLINE Publishers and the author, in cooperation with Article 19, Reginal Office, EAST AFRICA, the Norwegian Support Group for Peace in Sudan and South Sudan and the Norwegian Solidarity Council for Africa, have the pleasure to invite you and representatives of your media house/civil society organization to the launch of the book «LIVES AT STAKE. South Sudan during the Liberation Struggle» by Halle Jorn Hanssen, a former Secretary General of Norwegian People's Aid. The book is an extended and updated edition of the Norwegian edition from 2015, that in the main dealt with the role of Norwegian People's Aid during the Liberation Struggle in South Sudan from 1983 to 2005. The English edition includes the author's view on events in South Sudan from the summer of 2013 until the present.
LIVES AT STAKE is translated by Renee Hilda Waara with support from NORLA, Norwegian Literature Abroad.
Programme
John Gachie, the Kenyan editor and writer will be in charge of the programme.
Halle Jorn Hanssen, the author, will introduce the book and give the background for his writing.
In the panel, Kosti Manibe, former detainee and SPLM leader, Mrs. Gunvor Schancke, the Norwegian Embassy in Nairobi and former Development Counsellor at the Norwegian Embassy in Juba, Elias Mitsiale Girma, former NPA Resident Representative in South Sudan, Mrs Abeny Nathaniel Anai, former NPA staff in South Sudan and SPLA Commander, professor Jok Madut Jok the SUDD Institute in Juba and the Kenyan MP, Dr. Akro Akout. Madam Rebecca Garang is invited as the Guest of Honour, but has not yet confirmed.
Light refreshments to be served.
Oddbjørn Monsen                                                                                 Halle Jørn Hanssen
SKYLINE                                                                                                   Author