VERA EIN ANNAN STAD av Annlaug Selstø
Om å reise langt bort for å akseptere noko nært
Does your country have a food-drop-zone? spør Bol. Eg ser på han for å sjå om han tullar. Bol som ofte snakkar om alt han høyrer på BBC, om Obama og Merkel og Putin og Netanyahu. Han veit visst ingenting om mitt liv heime. No, svarar eg tamt. So where do you get your food from then, spør Bol. At the grocery store, svarar eg.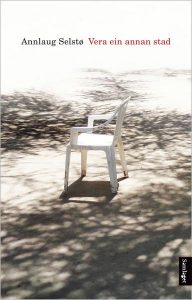 Vilde er sjukepleiar og på veg ut i bushen i Sør-Sudan for å jobba med underernærte born. Der møter ho lokale kollegaer som ho arbeider tett saman med. Med i bagasjen har ho gode intensjonar. Og ei fersk kjærleikssorg.
Vera ein annan stad er ei sterk og truverdig skildring av kvardagen i leiren, av vennskapa som oppstår, og samarbeidet på klinikken, og av det å komme som privilegert arbeidar til ein stad som ligg langt frå vår eiga verd.
Les intervju med forfatteren her: https://www.vl.no/boker/ein-heilt-annan-stad-1.1236930